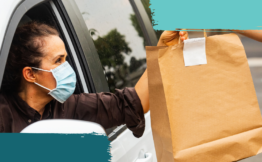 Library Services During Covid-19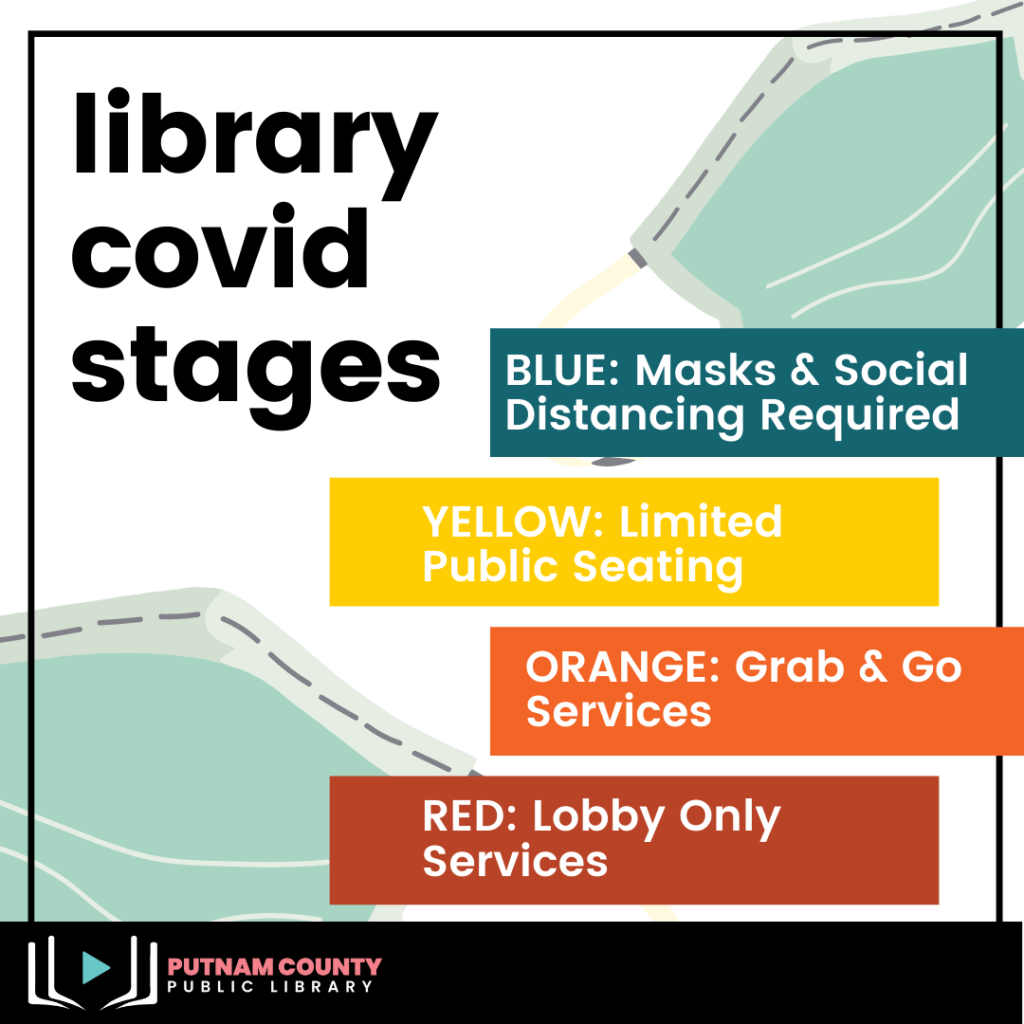 The Putnam County Public Library has unveiled new protocols for library services during Covid-19. These protocols will more closely tie the library's procedures to the Indiana State Health Department and Putnam County Health Department testing data for Covid-19.
Beginning on Monday, February 1, the library will tie its Covid-19 procedures to the advisory level of Putnam County. Each Monday, the library will change its service offerings to match the advisory level of the county.
The statuses that correspond to the color-coded advisory level are as follows: 
BLUE. Masks & Social Distancing Required
YELLOW. Limited Public Seating
ORANGE. Grab & Go Service
RED. Lobby Only Service
For more information,  call 765-653-2755 or email us. The ISDH advisory level can be found on the ISDH website, under the drop-down category "map metrics" under the County Metrics menu.
Featured Library Services
The library now offers Curbside Service from 10 a.m.-5 p.m. Pick up your materials from the safety and convenience of your vehicle!
Take the library on the go with these apps and resources powered by your library card.
Visit our Frequently Asked Questions for answers to common questions about library services. Need more help? Call us at 765-653-2755
…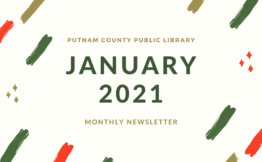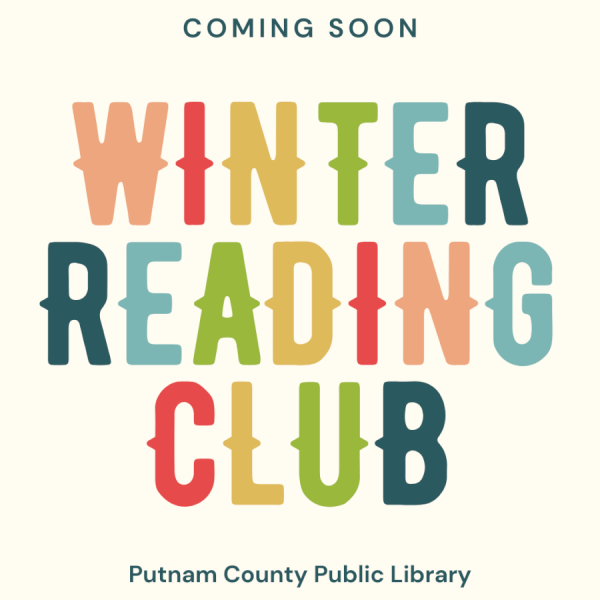 The 2021 Winter Reading Club will run from January 1-February 28. Children and teens can pick up a Bingo challenge in the Imagination Portal or access them online. Earn a bingo to win a cool prize! Adults can pick up their reading sheet at the circulation desk on the main level of the library or access them online.
We will accept the following methods of returning your Bingo Sheet or Reading Challenge to the library:
Return your physical copy to the Imagination Portal if you are under 18, or to the Circulation Desk if you are 18+.
If you are an adult, please email refdesk@pcpl21.org with your answers for the adult Reading Challenge.
If you are a child, please email ys@pcpl21.org and provide them with your information. 
Prizes may be picked up during the challenge or at your convenience after the challenge has ended. 
Curbside Service
The Putnam County Public Library is excited to offer Curbside Services @ PCPL. Simply place your items on hold and we'll deliver them to your vehicle!

Free Public Wi-Fi
The library has free public Wi-Fi for your connectivity needs. Our Wi-Fi extends to the library parking lot, allowing access after hours.

Library of Things
We love books at the library, but sometimes books alone don't do the job. With generous funding from the Dr. James Elrod fund at the Hendricks County Community Foundation (HCCF), the library has purchased materials for a "Library of Things".
The Library of Things is a collection of items that are unconventional to libraries but may be of use to the community. These items can include kitchen appliances, tools, crafting supplies, outdoor games, board games, and a wide array of other items. These items are loanable to the community just like any other library material.
With Cypress Resume, you can effortlessly create a professional resume in minutes! Its easy-to-use design assures you won't spend hours trying to perfect your document — all the hard work is done for you! Simply plug in your basic information (as much or as little as you like), and we create a perfectly formatted document to help you land that dream job.
You need a library card to access this resource.
…
Post Tagged with
apps
,
digital
,
digital resources
,
events
,
library programs
,
news
,
newsletter
,
program
,
resources
,
virtual
,
virtual programs

Carry the Library in Your Pocket
Digital Resources for Children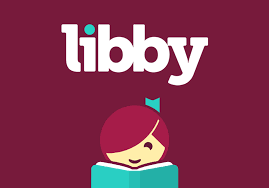 OVERDRIVE/LIBBY
Thousands of eBooks, audiobooks, and videos available with your Library card. Enjoy them immediately—or transfer to your eReader or mobile device with the OverDrive and Libby apps.
You need a library card to access this resource.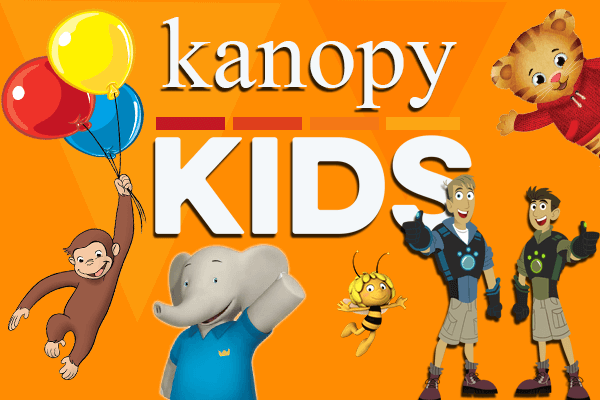 KANOPY KIDS
Kanopy Kids is full of kid-friendly clips, films, and videos to keep your little ones entertained by educational content! Check out Kanopy Kids today!
You need a library card to access this resource.
Click here for Kanopy Kids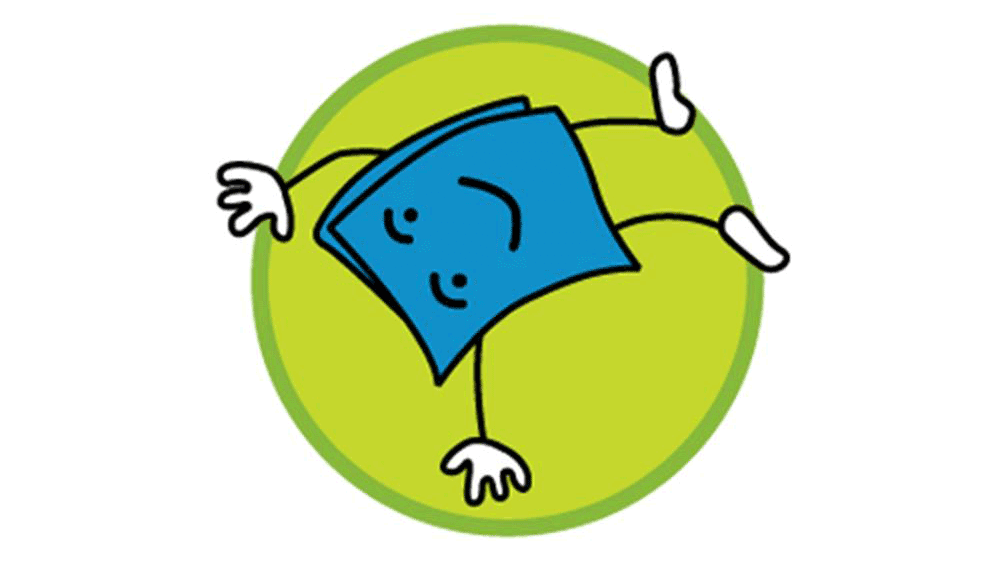 TUMBLEBOOKS
A collection of animated, talking picture books, suited for elementary school children. Each story comes with puzzles and games geared to ensure reading comprehension.
You need a library card to access this resource.
…
Post Tagged with
coloring page
,
community partners
,
digital
,
digital resources
,
kanopy
,
libby
,
overdrive
,
resources
,
spotlight
,
tumblebooks
,
virtual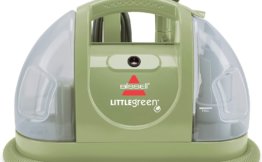 Library of Things: Bissell Multi-Purpose Portable Carpet and Upholstery Cleaner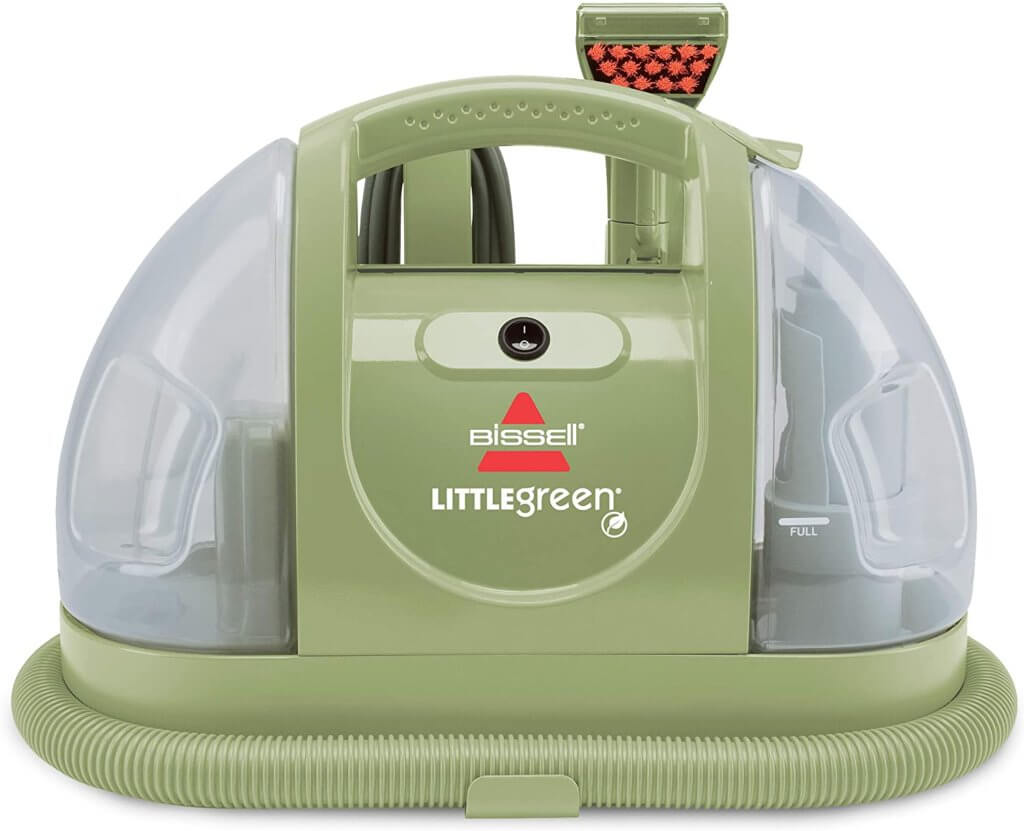 These machines remove deep-down dirt, spots, and stains quickly and more effectively because of the powerful suction lifts and remove them for good. Cleans Multiple Surfaces: carpet, upholstery, stairs, area rugs, auto interiors, and more.
For clogged and cleaning for the return follow these instructions: Check for suction at the back of the unit after removing the hose where it attaches to the back of the unit. If there IS suction at the back of the machine with the hose removed, follow these steps: Unplug the unit from the outlet. Check the Pre- and Post-Motor filters for debris. Dirty filters can restrict airflow. The Pre-Motor Foam Filter is square. You can find it in a pull-out tray under the Dirt Tank. The Foam Filter may be hand washed in cold water with mild detergent. Reinstall the filter when it's completely dry. The Multi-Layer Post-Motor Filter is rectangular. It can be found on the side of the machine.
Note: The white Multi-Layer Post Motor Filter isn't washable.
Make sure the dirt tank is empty. Check the upper tank for build-up or clogs. If it needs to be cleaned, use a short, Phillips-head screwdriver and take off the separator plate with a cloth (can be dampened with water or a mild detergent). Replace the dirt tank. Check for good suction at the end of the upholstery hose. If there's good suction, make sure the hose is connected firmly to the lower hose on the back of the vacuum. If there's no suction, check the hose for splits, cracks, or clogs. Make sure the Brush Roll is rotating. If it isn't, take the access plate off and examine the brush and belt for damage. The access panel can be taken off by lifting the four tabs on the bottom of your machine. Clearing clogs detach the Upper Hose from the machine. Insert a broomstick into the hose to push any obstruction through. Remove the screw from the left side of the lower hose on the back of the unit. Straighten this section of hose by pulling it down or laying the unit on its side with the lower hose towards the top side. Look through the hose for any obstruction. Use a broomstick to unclog the hose.
…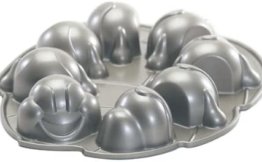 Library of Things: Nordic Ware Caterpillar Cake Pan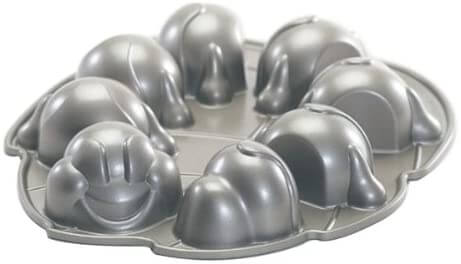 Who says you have to wait for a caterpillar to turn into a butterfly for it to be fun? With the Nordic Ware Caterpillar Cake Pan, you can turn any humdrum cake into a cool caterpillar confection! This cast aluminum bake pan features eight separate sections that each fits the mold of a part of a caterpillar. After baking the eight sections can be combined and decorated to create one marvelous, happy caterpillar. Each section is perfectly portioned for singular or shared eating! The aluminum pan promotes even cooking and is non-stick to allow for easy release and cleaning. The total batter capacity of this pan is 5-cups, making it perfect for creating a different kind of birthday cake. This pan is ideal for those who like a little more design with their dessert.
You will need five cups of batter for this pan. Make sure you spray the pan with cooking spray really good because all of the curves in it make this pan a little harder to clean. This is a great pan if you want to have a Hungry Caterpillar Party.
We followed the instructions of the cake batter that we used. You can use a toothpick to help loosen the cake. Then we placed a cookie sheet over it and flipped it to get the pieces out. Take your time cleaning this pan because there are lots of curves that need to be cleaned on it.
…
Library of Things: USB Flash Drive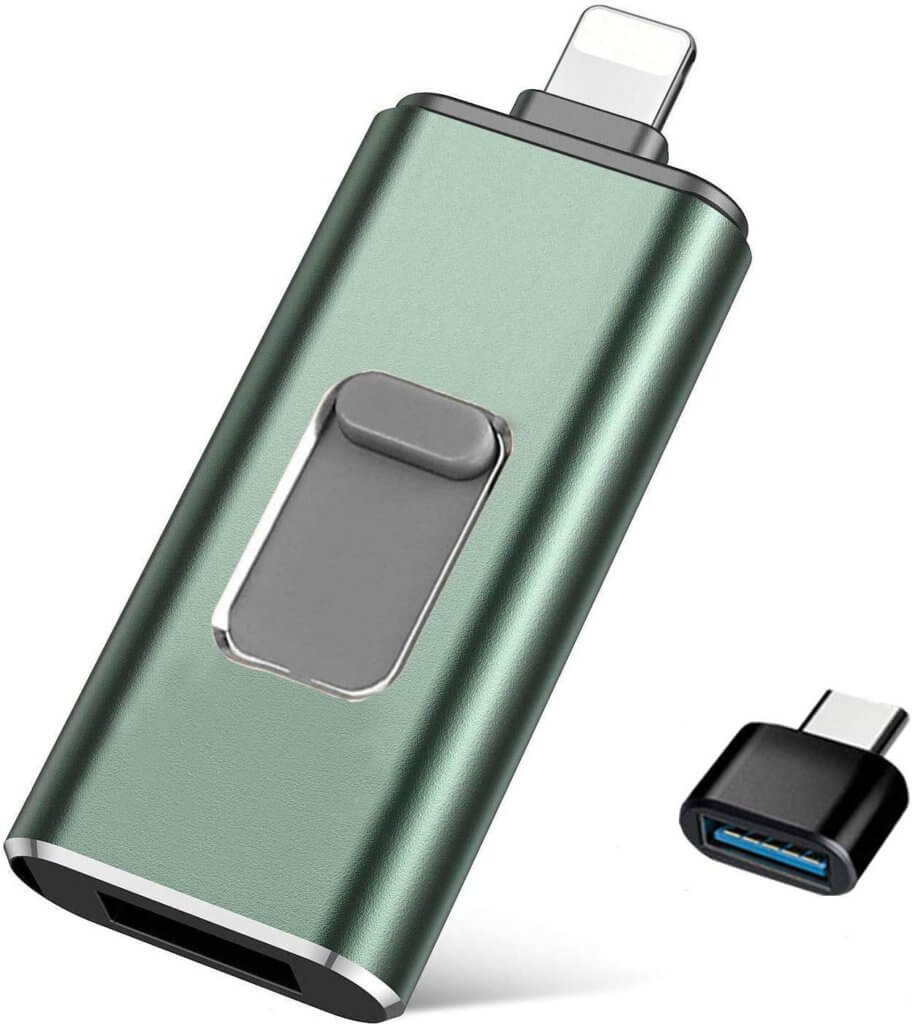 This is a creative USB 3.0 Flash Drive (Multi-Functioning, Mini-sized, Aluminum alloy design, large storage capacity) which has double connectors, can be transferred the documents for all series products of iPhone, iPad & Android(with OTG function) (not compatible with type c port) &PC. Files supported (From PC to the Flash drive (memory stick) and play them on iPhone or iPad via App) Picture: BMP/GIF/CUR/ICO/JPG/PNG/TIF/TIFF/XBM Video: M4V/MP4/MPV/AVI/FLV/MKV/MOV/MPG/RM/RMVB/TS/WMV Music: WAV/AAC/AIFF/AIF/CAF/M4A/MP3 File: XLS/PPT/PDF/TXT/DOC
I used this product on my iPhone 12 Pro Max that I had around 3,000 photos I needed to move to my computer to save. I had to download an App called LUV-Share, plugged the Jumpdrive into my went through the instructions, and transferred the photo to the Jumpdrive. This takes a few minutes to do and it is important you do not let your phone go to sleep. After that I put the drive into my computer; again do not let your computer fall asleep while transferring from Jumpdrive to computer.
Tip: Make sure you have time to stay with your devices while transferring. Most important make sure everything is deleted from the Jumpdrive before you return it to the library.
…
Skip to content