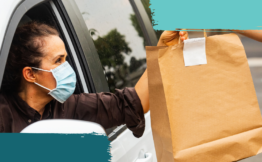 Library Services During Covid-19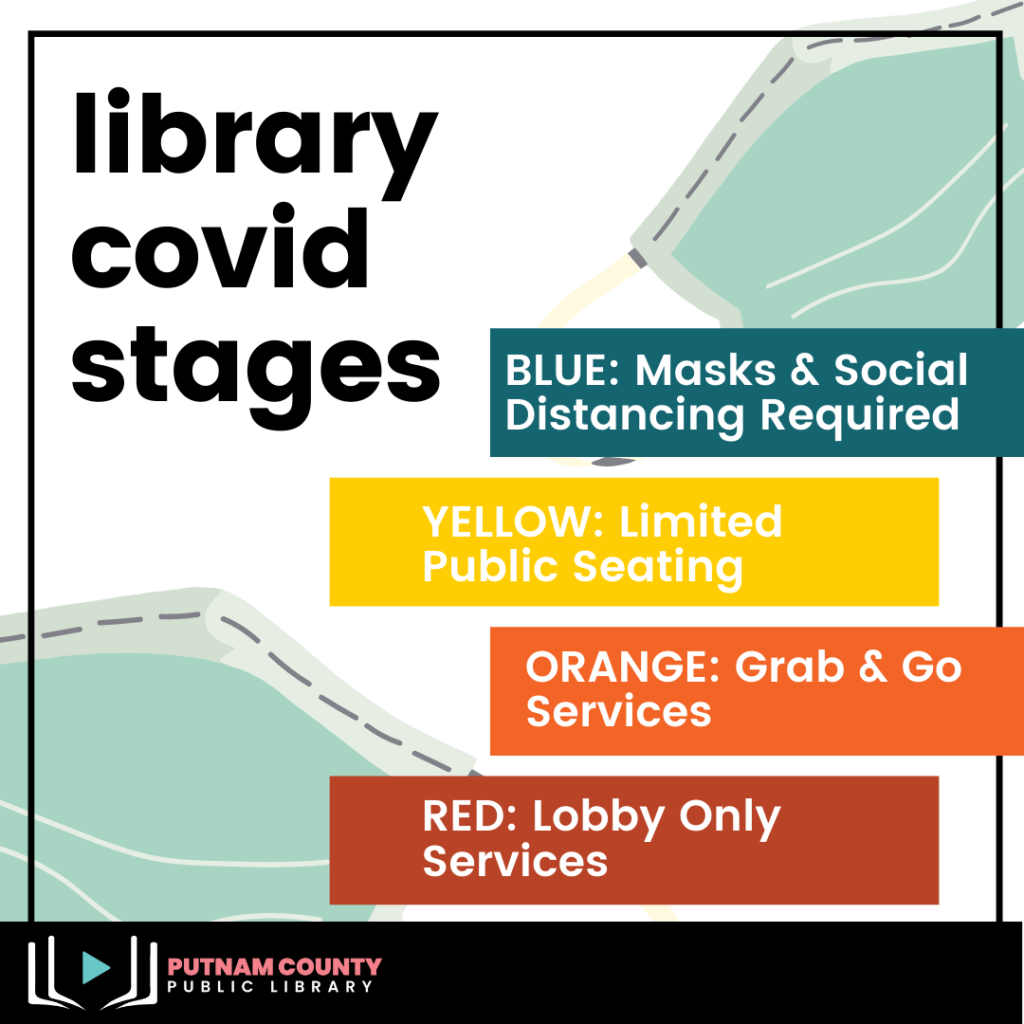 The Putnam County Public Library has unveiled new protocols for library services during Covid-19. These protocols will more closely tie the library's procedures to the Indiana State Health Department and Putnam County Health Department testing data for Covid-19.
Beginning on Monday, February 1, the library will tie its Covid-19 procedures to the advisory level of Putnam County. Each Monday, the library will change its service offerings to match the advisory level of the county.
The statuses that correspond to the color-coded advisory level are as follows: 
BLUE. Masks & Social Distancing Required
YELLOW. Limited Public Seating
ORANGE. Grab & Go Service
RED. Lobby Only Service
For more information,  call 765-653-2755 or email us. The ISDH advisory level can be found on the ISDH website, under the drop-down category "map metrics" under the County Metrics menu.
Featured Library Services
…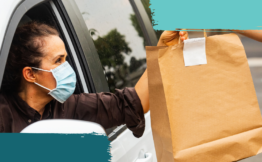 Visiting the Library: Lobby Service
Due to new protocols related to the Covid-19 pandemic, the library is open to lobby/curbside service ONLY at this time. Read this helpful guide for information on how to use library services at this time. 
Remember, the library is never REALLY closed. Our digital apps and resources bring the library to your fingertips. Click here for more information.
What this means for patrons: 
The library lobby is open, but access to library stacks and public spaces are closed. 
Masks MUST be worn in the library building at all times. Masks MUST cover your nose and mouth at all times while inside of the library building.
Books, DVDs, CDs, Magazines & Newspapers MUST be returned to outside drop-boxes. Library of Things items may be returned to the Circulation Desk.
Large donations may be dropped off in the library lobby. Large tote boxes are available for your convenience and safety.
Currently Available Library Services: 
*NEW* Digital Lab Drop-Off. A new library service that will allow patrons to drop-off their photographs, VHS tapes, records (LPs and 45s), cassette tapes, and 8mm film to be converted into digital files by library staff, free of charge. 
Contact Anthony Barger at [email protected] or (765)653-2755 for a consultation and to schedule a time to drop off materials.
Checking Out Materials. Materials can be placed on hold through Evergreen Indiana, by visiting the library lobby, calling the library at 765-653-2755, or emailing the library at [email protected]. It is NOT required that materials be placed on hold at this time. Staff is available to retrieve materials upon request.
Curbside Service. The library continues to offer and encourage curbside service. Follow instructions on the parking lot signage when you arrive to receive curbside service. Appointments are NOT required. Click here for more information.
Digital Library Card Sign-Ups. The library will continue to approve requests for library cards by phone or email. Click here for more information. 
Magazines and newspapers will be available for check-out.
Reference Services. The library will continue to offer reference services. Do you need help choosing materials? We can help!
I am looking for books on swimming. Can you help me find picture books about swimmers? Yes, we can help. 
I love books by Justina Ireland. Can you find something similar? Yes, we can help. 
We are homeschooling and we need to plan a lesson on national parks. Can you put together materials for us? Yes, we can help.
When visiting the library, please make your request at the Circulation Desk. A librarian will be available to assist you. 
We have a number of online resources and forms for finding materials. Check out our Book Bundles, Educator Kits, and Staff Picks for Kids. 
Receive a curated recommendation list by filling out the My Next Read form for children, teens, or adults. 
Technology Help Desk. Please call the library for details. 
Print/Copy/Fax Services. These services will remain available in the library lobby. Staff will be available to print files that are emailed to [email protected]. 
Public computer access for essential business will be available in the library lobby. Time is limited to one-hour per visitor.
Public Wi-Fi Access. The library's free public Wi-Fi extends to the library parking lot, expanding access to outside of the library building.
…
Skip to content