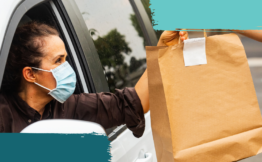 Library Services During Covid-19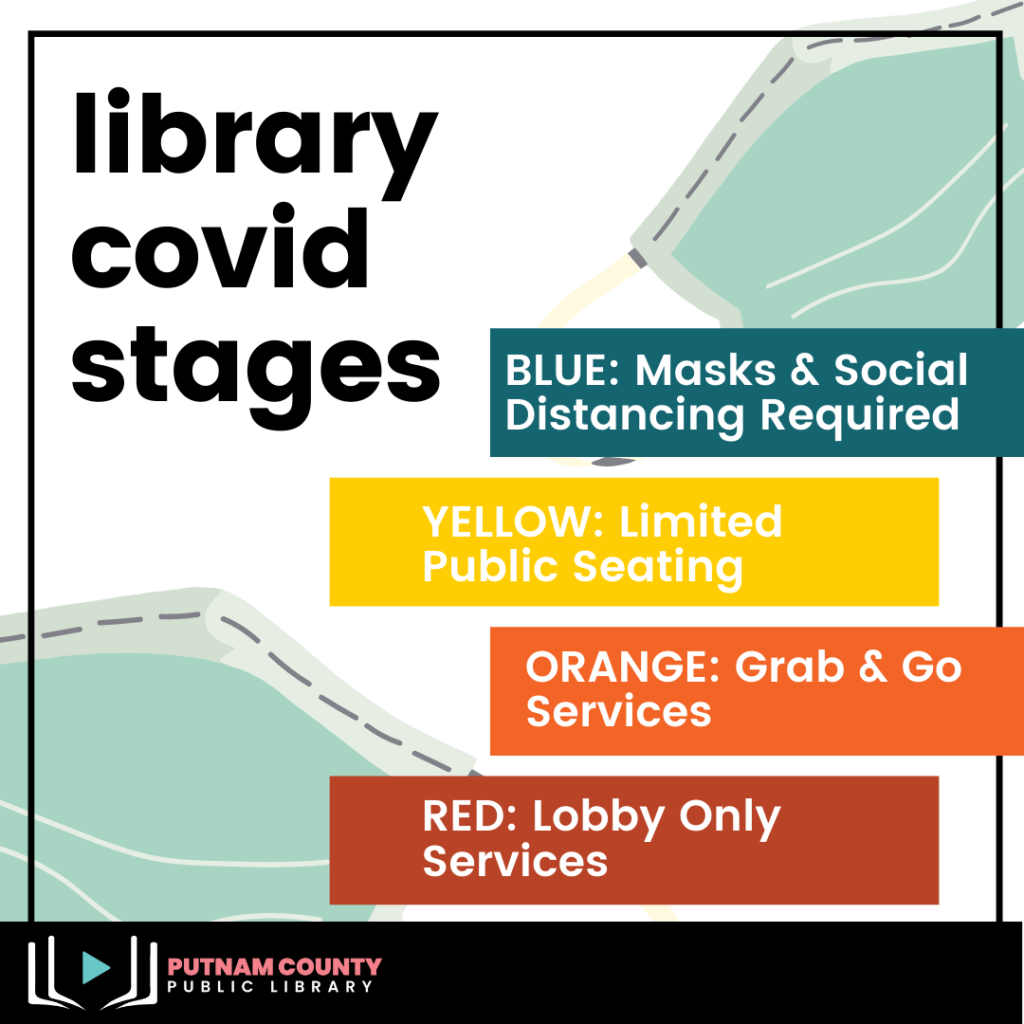 The Putnam County Public Library has unveiled new protocols for library services during Covid-19. These protocols will more closely tie the library's procedures to the Indiana State Health Department and Putnam County Health Department testing data for Covid-19.
Beginning on Monday, February 1, the library will tie its Covid-19 procedures to the advisory level of Putnam County. Each Monday, the library will change its service offerings to match the advisory level of the county.
The statuses that correspond to the color-coded advisory level are as follows: 
BLUE. Masks & Social Distancing Required
YELLOW. Limited Public Seating
ORANGE. Grab & Go Service
RED. Lobby Only Service
For more information,  call 765-653-2755 or email us. The ISDH advisory level can be found on the ISDH website, under the drop-down category "map metrics" under the County Metrics menu.
Featured Library Services
The library now offers Curbside Service from 10 a.m.-5 p.m. Pick up your materials from the safety and convenience of your vehicle!
Take the library on the go with these apps and resources powered by your library card.
Visit our Frequently Asked Questions for answers to common questions about library services. Need more help? Call us at 765-653-2755
…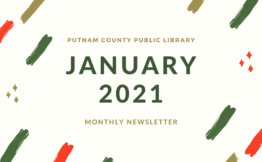 There are no upcoming programs at this time.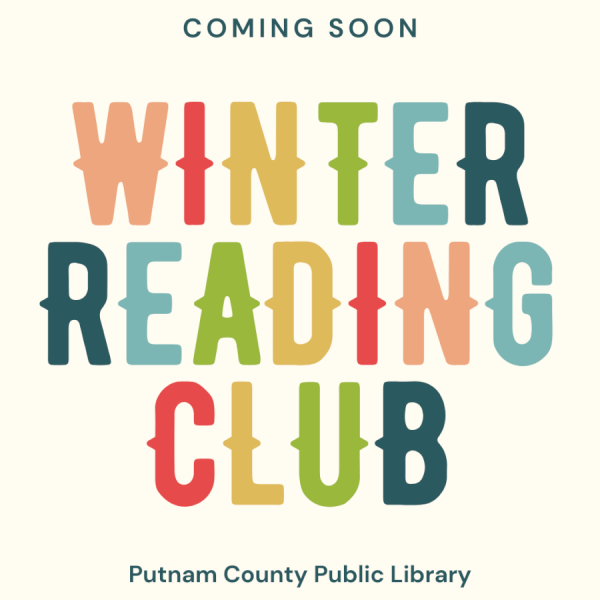 The 2021 Winter Reading Club will run from January 1-February 28. Children and teens can pick up a Bingo challenge in the Imagination Portal or access them online. Earn a bingo to win a cool prize! Adults can pick up their reading sheet at the circulation desk on the main level of the library or access them online.
We will accept the following methods of returning your Bingo Sheet or Reading Challenge to the library:
Return your physical copy to the Imagination Portal if you are under 18, or to the Circulation Desk if you are 18+.
If you are an adult, please email 

[email protected]

 with your answers for the adult Reading Challenge.
If you are a child, please email 

[email protected]

 and provide them with your information. 
Prizes may be picked up during the challenge or at your convenience after the challenge has ended. 
Curbside Service
The Putnam County Public Library is excited to offer Curbside Services @ PCPL. Simply place your items on hold and we'll deliver them to your vehicle!

Free Public Wi-Fi
The library has free public Wi-Fi for your connectivity needs. Our Wi-Fi extends to the library parking lot, allowing access after hours.

Library of Things
We love books at the library, but sometimes books alone don't do the job. With generous funding from the Dr. James Elrod fund at the Hendricks County Community Foundation (HCCF), the library has purchased materials for a "Library of Things".
The Library of Things is a collection of items that are unconventional to libraries but may be of use to the community. These items can include kitchen appliances, tools, crafting supplies, outdoor games, board games, and a wide array of other items. These items are loanable to the community just like any other library material.
With Cypress Resume, you can effortlessly create a professional resume in minutes! Its easy-to-use design assures you won't spend hours trying to perfect your document — all the hard work is done for you! Simply plug in your basic information (as much or as little as you like), and we create a perfectly formatted document to help you land that dream job.
You need a library card to access this resource.
…
Post Tagged with
apps
,
digital
,
digital resources
,
events
,
library programs
,
news
,
newsletter
,
program
,
resources
,
virtual
,
virtual programs
Library of Things: Wilton Countless Celebrations Set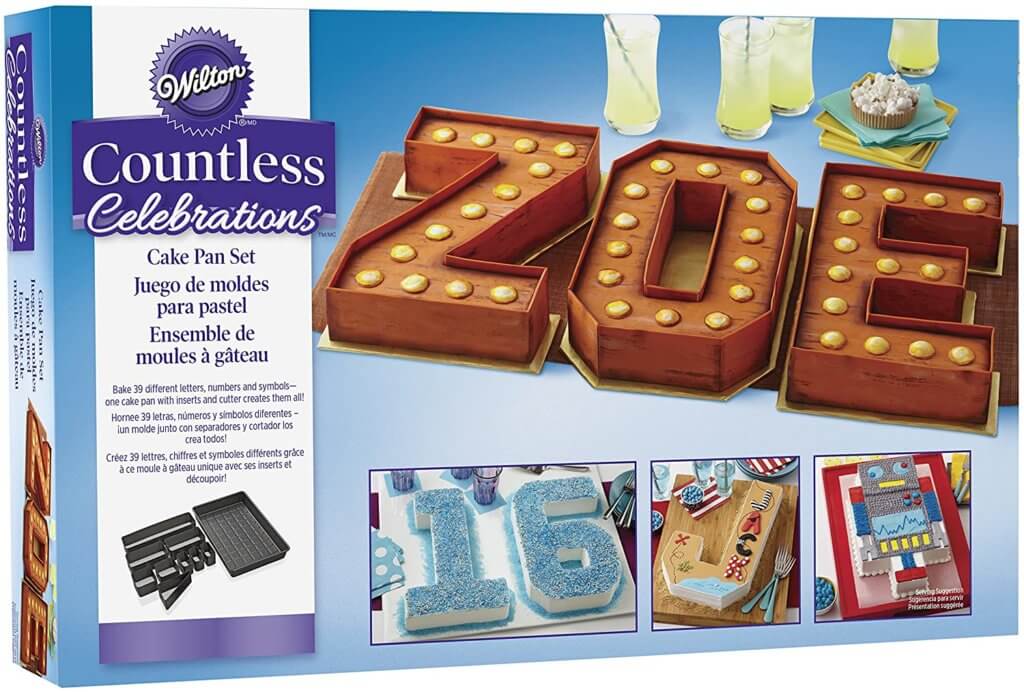 It's as easy as 1-2-3 to personalize any party to celebrate every special occasion. Use one pan to bake cakes shaped like letters A-Z and numbers 0-9, perfect for celebrating birthdays, anniversaries, engagements, and so much more. The Countless Celebrations, letters, and numbers pan set to celebrate every special occasion. The complete set includes a 14.5 x 9-inch non-stick cake pan, featuring a grid-guide bottom, eight pan inserts, one angled cutter, and easy picture instructions. Plus, the inserts nest neatly inside the pan for convenient storage.

Description
I used one brownie mix to make the letter J. My brownie was short, so I would use two boxes of whatever mix you want to use. I sprayed the rectangle pan and all the pieces I used with cooking spray. There were very mild places where the mix went past the interchangeable inserts; make sure you fit the pieces snug in place and try not to move the pan around a lot.

Danielle Featherston, Technical Services Director
Tip: Use two boxes of cake mix, spray all parts you are using, and remember to clean well before returning to the library.
…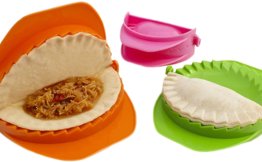 Library of Things: Zoie + Chloe 3-Piece Dough Press Set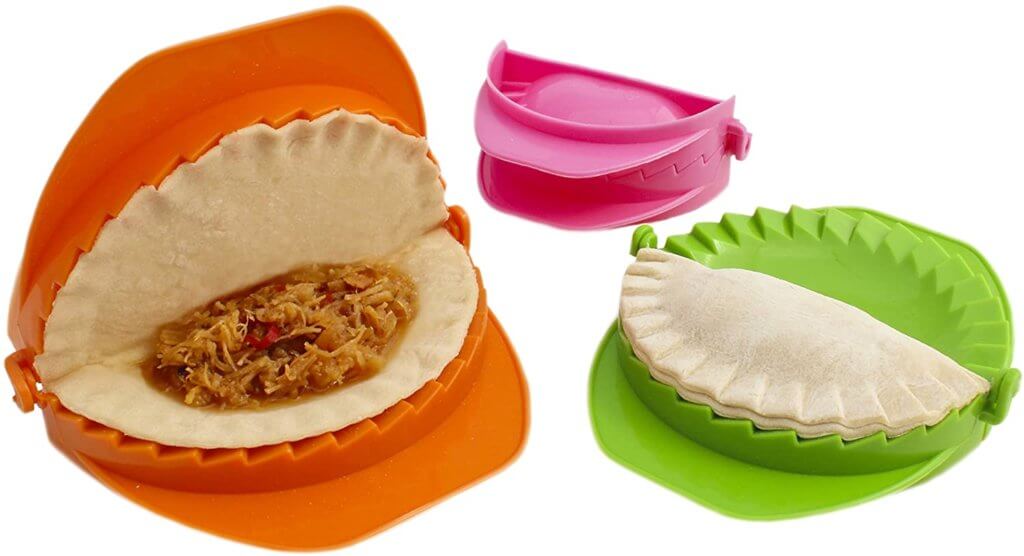 Make hand pies, dumplings, empanadas, and more with Zoie + Chloe's dough press set. The once labor-intensive process has been reduced to four simple steps: cut, fill, fold, and press to seal. These three dough presses have diameters of 4", 5" and 6". They feature a decorative crimped edge design, and the dough cutter on the back of the press cuts dough to fit the press perfectly. It is excellent for dumplings, ravioli, calzones, piroshkis, empanadas, pierogies, and pastries of all kinds. They are easy to care for and dishwasher safe.

Description
Frozen dough circles can be used or rolling puff pastry about 1/16 of an inch in thickness and cut with the dough press you want to use, like in the video shown below, to make the appropriate size. Tip: Spray the inside of the crimpers with baking spray before placing the cut dough on the crimpers. Watch out for over stuffing. You can then bake for about 30 minutes at 350 degrees, air fry, or deep fry.
There are so many options on Pinterest and the web to find recipes to use these. I used keywords like dough press recipes, hand pies, dumplings, ravioli, calzones, piroshkis, empanadas, and pierogis to find tons of great recipes to use these for different meals. If you have an air fryer, then you can put that in your search also.
…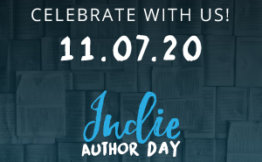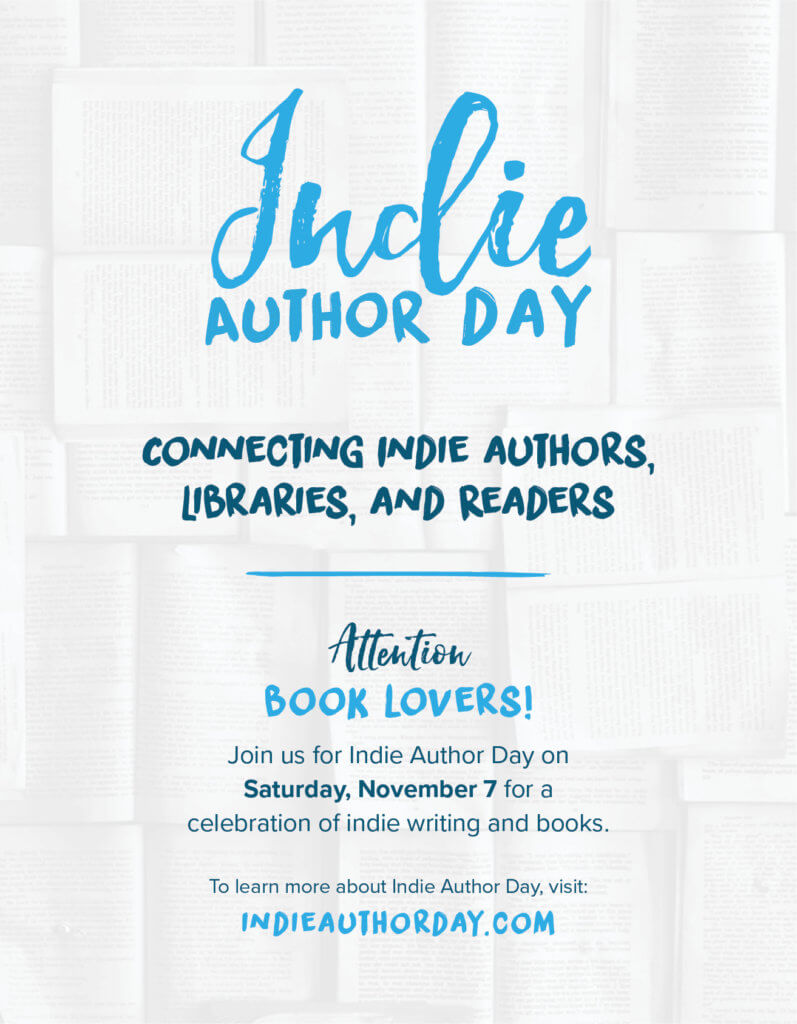 On November 7, 2020, the Putnam County Public Library will host the 5th annual Indie Author Day. Join us for the talk "Eye for the Weird" by Author Sarah Gerkensmeyer. 
Eye for the Weird
How can the strange, the uncanny, and the unordinary help give us more direct access to our characters' ordinary, human experiences?  This presentation, which incorporates a series of interconnected writing exercises, will explore how some "weird" writers like myself work with a careful balance of the ordinary and the unordinary, the real and the surreal, in their fiction.  We will look at overt examples of weird writing, such as magical realism, fabulism, and fairy tales.  And we will also explore more subtle approaches, such as conducting creative research about unknown topics and discovering a sense of mystery about topics that you are already familiar with.  Participants should be both inspired and challenged to discover how injecting a sense of the unknown and the off-kilter—whether to a large degree or only in small doses—might open up the characters in their own writing.  I will also share about how growing up in the Midwest helped shape how I view the "weird" in both the landscape that surrounds me and in my own writing.
For more information: 
Indie Author Day
Writer Workshop Videos
Sarah Gerkensmeyer's story collection, What You Are Now Enjoying, was selected by Stewart O'Nan as winner of the 2012 Autumn House Press Fiction Prize, longlisted for the Frank O'Connor International Short Story Award, and chosen as winner of Late Night Library's Debut-litzer Prize.  A Pushcart Prize nominee for both fiction and poetry and a finalist for the Katherine Anne Porter Prize in Short Fiction and the Italo Calvino Prize for Fabulist Fiction, Sarah has received scholarships to the Bread Loaf Writers' Conference, Ragdale, Grub Street, SAFTA's Firefly Farms, and the Vermont Studio Center.  Her stories and poetry have appeared in American Short Fiction, Guernica, The New Guard, The Massachusetts Review, Hayden's Ferry Review, B O D Y, Hobart, and Cream City Review, among others.  Her story "Ramona" was featured in a Huffington Post piece on flash fiction and also selected by Lily Hoang for the 2014 Best of the Net Anthology.  Sarah was the 2012-13 Pen Parentis Fellow.  She received her MFA in fiction from Cornell University and now lives and writes in her home state of Indiana, where she is a winner of the Indiana Authors Award and a Sustainable Arts Foundation Fellow.
…
Post Tagged with
Adult Programs
,
adult services
,
Community Events
,
community partners
,
digital
,
facebook
,
indie author day
,
library services
,
reference
,
virtual
,
virtual programs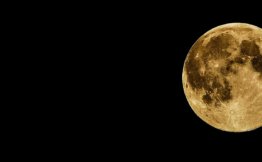 Observe the Moon: October 2-3
This year PCPL is providing links to NASA resources for school-age to adult so that you can engage this yearly moon celebration remotely.
Moon Activities and Resources
1. Look up! The simplest way to observe the Moon is simply to look up. The Moon is the brightest object in our night sky, the second brightest in our daytime sky, and can be seen from all around the world. International Observe the Moon Night is always held near a first-quarter Moon, which means that the near side of the Moon is about half-illuminated. A first-quarter Moon is great for evening observing as it rises in the afternoon and is high above the horizon in the evening. With the naked eye, you can see dark gray seas of cooled lava called mare.
2. Review our viewing guide for more tips on lunar observing.
3. Listen to a fascinating talk by Emily Levesque, Professor of Astronomy at Washington University and author of The Last Stargazers: The Enduring Story of Astronomy's Vanishing Explorers, which has received rave reviews. Fast forward about 4 minutes to begin Emily's talk on the science and adventures of being a professional astronomer and on her work at the world's cutting-edge observatories.
4. Plan a lunar hike with Moon Trek. Moon Trek is an interactive Moon map made using NASA data from our lunar spacecraft. Fly anywhere you'd like on the Moon, calculate the distance or the elevation of a mountain to plan your lunar hike, or layer attributes of the lunar surface and temperature. If you have a virtual reality headset, you can experience Moon Trek in 3D.
5. Start a Moon Journal. International Observe the Moon Night is the perfect time to start a Moon journal. See how the shape of the Moon seems to change over the course of a month, and keep track of where and what time it rises and sets.  To check your work, visit Dial-A-Moon, where you can plug in any date of the year to see the Moon phase. Observe the Moon all year long with these tools and techniques!
6. Watch the Lunar Reconnaissance Orbiter Video Gallery. Learn about the Moon's role in eclipses, look at the Moon's phases from the far side, and see the latest science portrayed in super high resolution.
7. Listen to a lunar playlist.
We hope you enjoy this year's remote Observe the Moon activities.
…
Skip to content