Library of Things: Wilton Countless Celebrations Set
Tip: Use two boxes of cake mix, spray all parts you are using, and remember to clean well before returning to the library.
…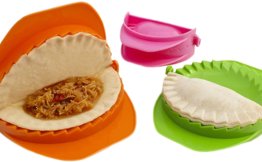 Library of Things: Zoie + Chloe 3-Piece Dough Press Set
Frozen dough circles can be used or rolling puff pastry about 1/16 of an inch in thickness and cut with the dough press you want to use, like in the video shown below, to make the appropriate size. Tip: Spray the inside of the crimpers with baking spray before placing the cut dough on the crimpers. Watch out for over stuffing. You can then bake for about 30 minutes at 350 degrees, air fry, or deep fry.
There are so many options on Pinterest and the web to find recipes to use these. I used keywords like dough press recipes, hand pies, dumplings, ravioli, calzones, piroshkis, empanadas, and pierogis to find tons of great recipes to use these for different meals. If you have an air fryer, then you can put that in your search also.
…
Library of Things: Artograph EZ Tracer Opaque Art Projector
The projector's bottom has a 3 1/4 x 3 1/4″ opening, which sits over the artwork to be transferred. It is very easy to use with printed pictures taken from magazines, photos, or even fabric. The room needs to be dark, and the projector needs to be at least two feet away from your canvas, paper, or what you are transferring the picture onto.
For things to trace, you can pick pictures out of books or head over to Pinterest. Using keywords when searching Pinterest or the internet is a great place to start. Try these keywords: pictures to trace, black and white images, or coloring pages. You can use any kind of image that is 3 1/4 x 3 1/4″.
…