A Year At The Library During Covid-19
  On March 17, 2020, the Putnam County Public Library closed its doors temporarily due to Covid-19. Since then, 535,000+ people have died in the United States due to Covid-19, with millions infected. Sixty of our community members have passed due to Covid-19 in the past year. The library mourns their loss, as well as the loss of every person due to Covid-19. 
  As we reflect on the past year, we hold the families, friends, and loved ones of those who have been affected by Covid-19 in our thoughts.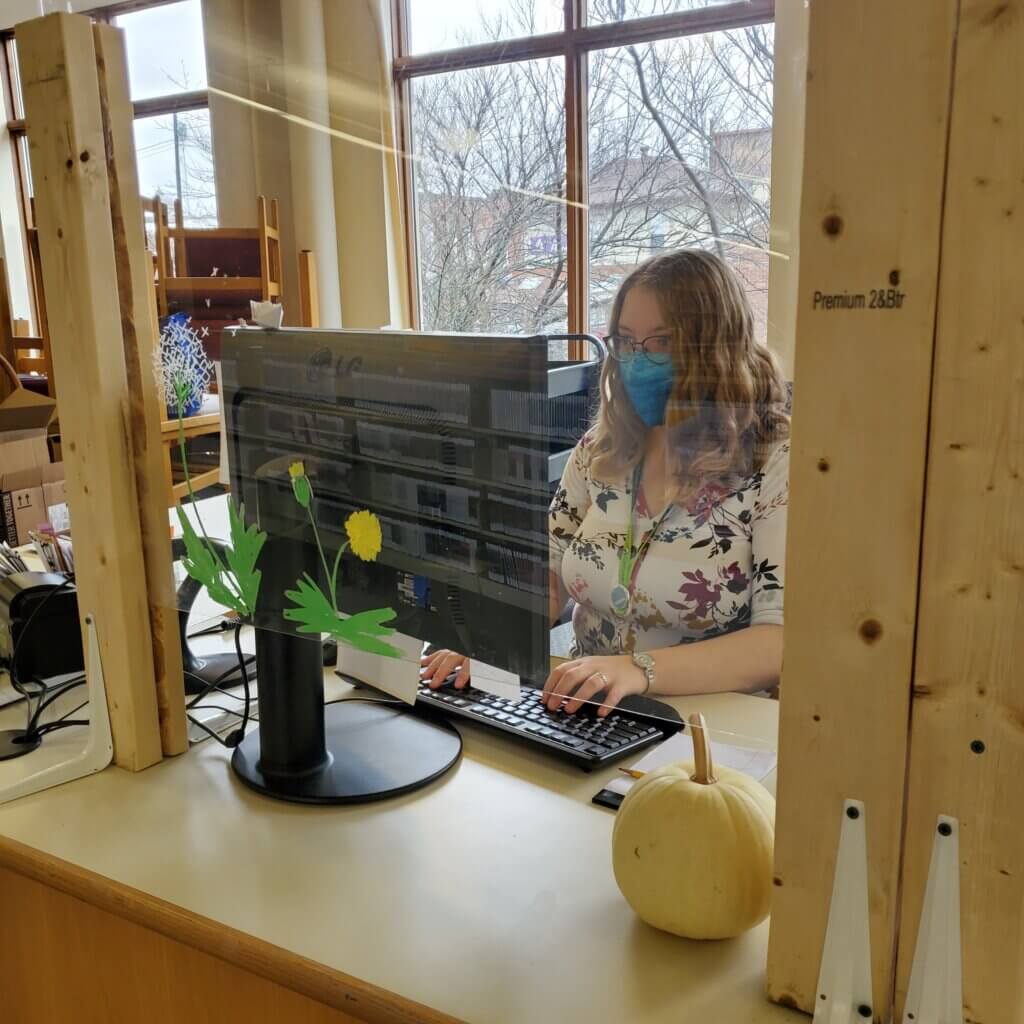 AMBER COMPTON, ADULT REFERENCE & ADULT PROGRAMS MANAGER
"This year has been challenging in so many ways and has also given us the opportunity to grow. Because of social distancing, staff learned how to use screen viewing services to help patrons on the computer. This has been great for different skill levels and allowed us to teach people new skills.
In the Adult area upstairs we have been working on a passion project called the Community Corner. We felt distant from our patrons who come in to see us sometimes daily and we wanted to create a space where we can provide information and resources. The Community Corner houses our Racial Equity collection and binders full of information, not just on Covid-19, but financial aid resources, tax filing, and more. The area was made through collaboration and we hope to see it grow in the future.
Finally, through Covid, we have been very grateful to be actively helping our community register for the vaccine. It is always a great feeling to see someone walk away with a book you know they are going to be immersed in, it's another to know you've given someone peace of mind about their health and safety. It's been a year of trials–from moving furniture to constant cleaning. We are so thankful to our patrons who have taken precautions to keep us and others safe and we look forward to a time when we can see their smiling faces again."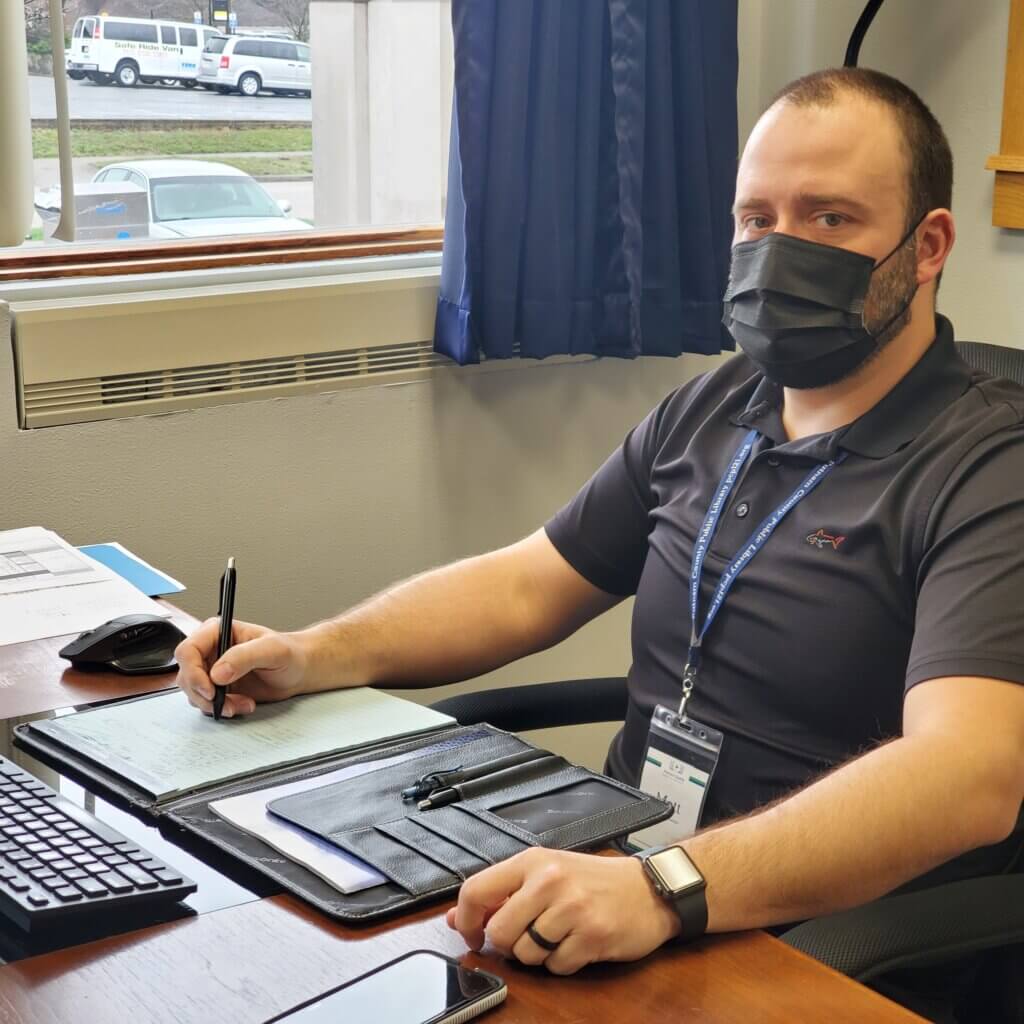 MATT MCCLELLAND, LIBRARY DIRECTOR
"In a year when it seems like people can't agree on much of anything, we can all agree that the last year has been one that we would all like to put in the rearview. However, I can say that despite all of the challenges, the library staff can take pride in how we have kept trying to improve things despite all that has gone on around us. It appears that the time is coming when everyone will be comfortable coming to the library again. When they do, I like to think that they will be impressed at many of the new services and improvements that we have made over the last year."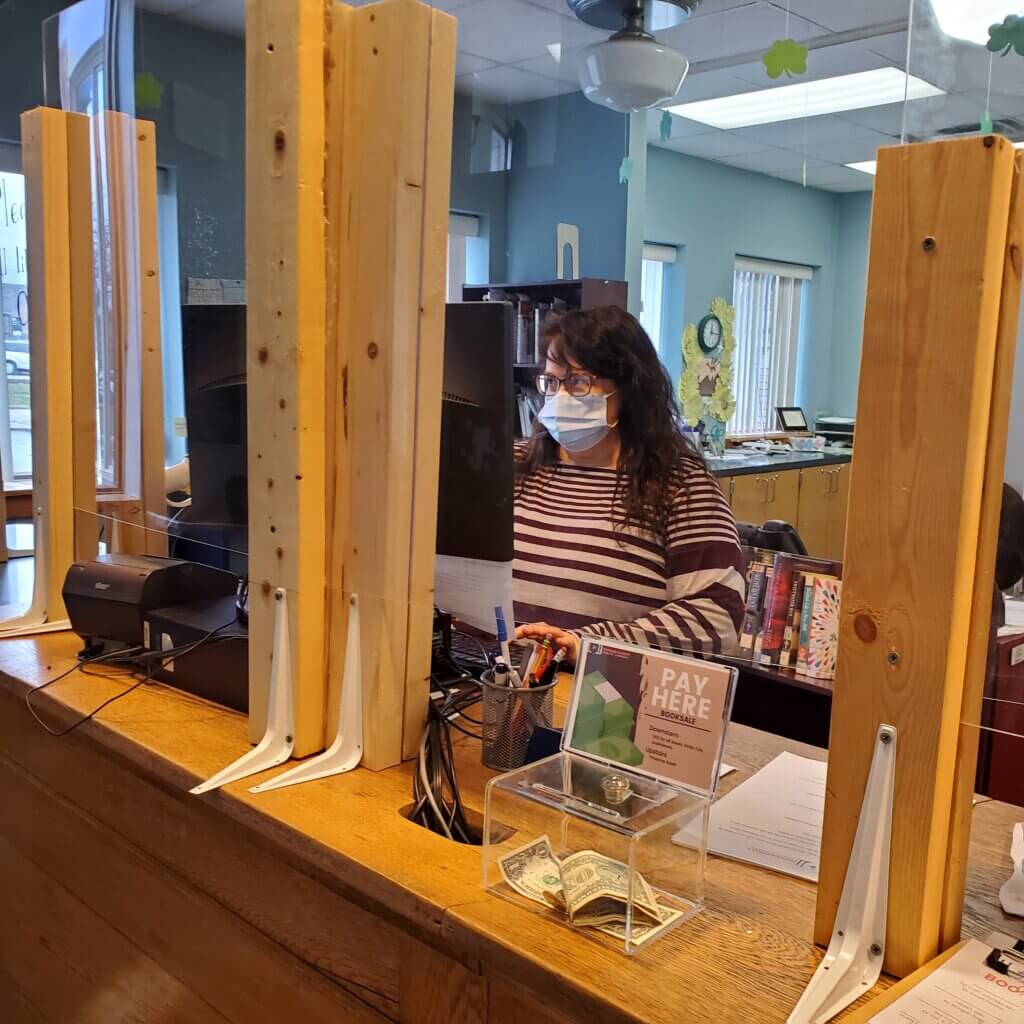 CONNI NEISWINGER, CIRCULATION MANAGER
"This past year has been strange and challenging for all of us. Around this time last year, I was brainstorming ways for the library to continue to serve our patrons as we worked from home. Our director and the rest of the staff worked out a plan for the library to reopen safely. From working out ways to implement curbside pickup to how to install the barriers needed at the circulation desk, we all had to get creative and think outside the box. 
This sense of teamwork and community have been some of my favorite things about this past year. Our team here at the library really came together and came up with some creative solutions and I'm so proud of that.  
One of my favorite parts of working at the library is interacting with our patrons. The most difficult part of the past year for me has been the distance we all must keep from each other. I am a hugger, I like to give our youngest patrons stickers and bookmarks. All of those things are on hold right now. When the library reopened last summer I was glad to get back to my patrons. 
Like everyone else, I can't wait to get back to some sense of normalcy. The past year has been amazingly challenging and I have learned so much! The most important thing I learned is that I have an awesome job and work with amazing people!"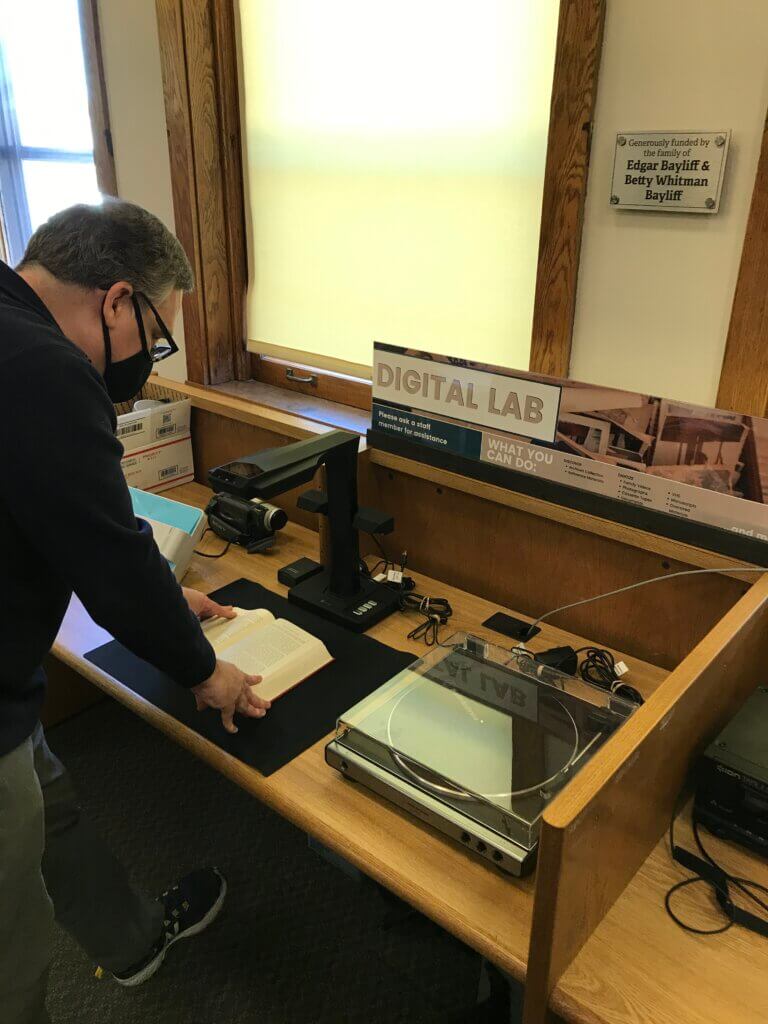 ANTHONY BARGER, ARCHIVIST
"It appears that we are getting close to the pandemic ending and approaching a new normal. As this surreal time is coming to an end, I find myself reflecting on the past year. Like everyone, the Archives Department has gone through some difficult times but has also used this period to create new ways to interact and assist patrons. Most notable of all of our losses was the passing of Ed Dewes of Covid. Ed was one of the library's longest-serving volunteers. He started volunteering around 25 years ago and he is missed. 
A difficulty for us, in the beginning, was not being able to directly interact with our patrons. A trait of the department is that we interact a lot with our patrons. It ranges from in-depth discussions about what collections to research to simple storytelling. In a department such as ours, patrons expect to see and handle the original documents. This came to a near full stop with the pandemic. Still, I admit that we have done a fine job of making sure that people got what they needed or wanted. In fact, our patrons stepped up by being both patient and going outside their comfort zone by embracing technology that previously they would not consider using.
Throughout the past year, we used our time well. Most people do not know this, but we have a room that contains thousands and thousands of documents that tell the history of our county. We have used this time to increase the entering of these collections into a database so that we can better serve the public.
…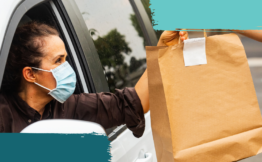 Library Services During Covid-19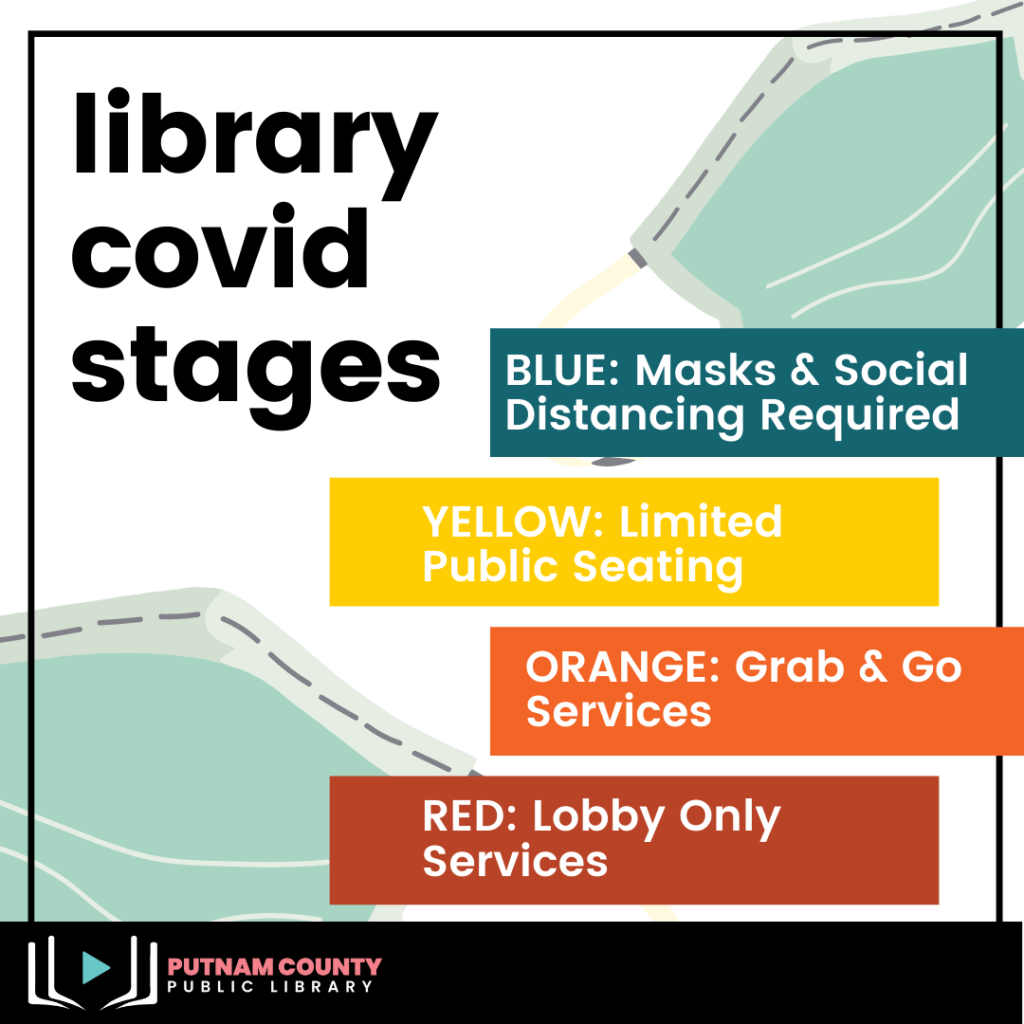 The Putnam County Public Library has unveiled new protocols for library services during Covid-19. These protocols will more closely tie the library's procedures to the Indiana State Health Department and Putnam County Health Department testing data for Covid-19.
Beginning on Monday, February 1, the library will tie its Covid-19 procedures to the advisory level of Putnam County. Each Monday, the library will change its service offerings to match the advisory level of the county.
The statuses that correspond to the color-coded advisory level are as follows: 
BLUE. Masks & Social Distancing Required
YELLOW. Limited Public Seating
ORANGE. Grab & Go Service
RED. Lobby Only Service
For more information,  call 765-653-2755 or email us. The ISDH advisory level can be found on the ISDH website, under the drop-down category "map metrics" under the County Metrics menu.
Featured Library Services
…
If you like Dominion, you may also like...
…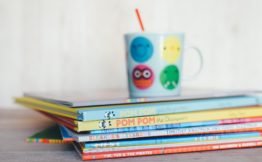 Children's Books: What To Read While The Library Is Closed
The library may be closed, but there is plenty to read and listen to digitally. Our Children's staff has gathered some of their favorite, too-good-to-miss digital books.
A collection of animated, talking picture books, suited for elementary school children, TumbleBooks take existing picture books and add sound, engaging animation, music, and narration to create stories that come to life for children.
Duck! Rabbit! by Amy Krouse Rosenthal
From the award-winning author of Little Pea, Little Hoot, and Little Oink comes a clever take on the age-old optical illusion: is it a duck or a rabbit?
Goodnight, Goodnight, Construction Site by Sherri Duskey Rinker
As the sun sets behind the big construction site, all the hardworking trucks get ready to say goodnight.
Mercy Watson To the Rescue by Kate Dicamillo.
To Mr. and Mrs. Watson, Mercy is not just a pig–she's a porcine wonder. And to the portly and good-natured Mercy, the Watsons are an excellent source of buttered toast, not to mention that buttery-toasty feeling she gets when she snuggles into bed with them. This is not, however, so good for the Watsons' bed. BOOM! CRACK! As the bed and its occupants slowly sink through the floor, Mercy escapes in a flash "to alert the fire department," her owners assure themselves. But could Mercy possibly have another emergency in mind–like a sudden craving for their neighbors' sugar cookies?
If you haven't already, download Libby through your device's App Store to access the library's digital collection. Libby is super easy to use; it's designed to get you reading as quickly and seamlessly as possible.
Start Now!: You Can Make a Difference by Chelsea Clinton. Audiobook
For the youngest activists among us, a book geared just for them: full of facts, stories and tips on how to change the world read by the author, Chelsea Clinton. How can I eat healthy? What can I do to save endangered animals? Why do I need to cover my mouth when I cough? With information on problems both large and small, Chelsea breaks down the concepts of health, hunger, climate change, endangered species, and bullying, so that listeners can understand the world around them, and how they can make a difference in their own lives, as well as in their communities and the world at large. 
Blended by Sharon M. Draper. E-book
Eleven-year-old Isabella's blended family is more divided than ever in this thoughtful story about divorce and racial identity from the award-winning and New York Times bestselling author of Out of My Mind, Sharon M. Draper.
Where the Mountain Meets the Moon by Grace Lin. Audiobook
Minli spends her days working hard in the fields and her nights listening to her father spin fantastic tales about the Jade Dragon and the Old Man of the Moon. Minli's mother, tired of their poor life, chides him for filling her head with nonsense. But Minli believes these enchanting stories and embarks on an extraordinary journey to find the Old Man of the Moon and ask him how her family can change their fortune. Narrated by Janet Song.
Mrs. Smith's Spy School for Girls by Beth McMullen. Audiobook
A girl discovers her boarding school is actually an elite spy-training program, and she must learn the skills of the trade in order to find her mother in this action-packed middle grade debut! Narrated by Kelsey Navarro.
Look Both Ways by Jason Reynolds. E-book
Jason Reynolds conjures ten tales (one per block) about what happens after the dismissal bell rings, and brilliantly weaves them into one wickedly funny, piercingly poignant look at the detours we face on the walk home, and in life.
You need a library card to access TumbleBooks and OverDrive. If you're having troubles accessing either with your card, contact [email protected].
If you do not have a library card (and even if you do!), check out some of our favorite books read by celebrities through Storyline Online. The books also include activity guides you can do at home together.
Snappsy The Alligator (Did Not Ask to Be in This Book) by Julie Falatko, read by David Harbour, of Stranger Things
The Hula-Hoopin Queen by Thelma Godin, read by Oprah Winfrey
Guji Guji by Chih-Yuan Chen, read by Robert Guillaume
…