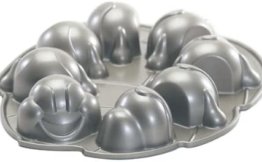 Library of Things: Nordic Ware Caterpillar Cake Pan
You will need five cups of batter for this pan. Make sure you spray the pan with cooking spray really good because all of the curves in it make this pan a little harder to clean. This is a great pan if you want to have a Hungry Caterpillar Party.
We followed the instructions of the cake batter that we used. You can use a toothpick to help loosen the cake. Then we placed a cookie sheet over it and flipped it to get the pieces out. Take your time cleaning this pan because there are lots of curves that need to be cleaned on it.
…