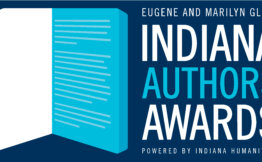 Join us for a discussion with Kevin McKelvey, a place-based poet, writer, designer, and social practice artist. He teaches at the University of Indianapolis and directs the M.A. in Social Practice Art and oversees the undergraduate major in Environmental Sustainability.
At the University of Indianapolis, he founded Etchings Press, a student-run publisher, helped start a community garden and microfarm, and has contributed to numerous interdisciplinary efforts for students and the community.
The Eugene and Marilyn Glick Indiana Authors Awards celebrate the best books by Indiana authors written in eight different categories and published during the previous two years. Winners receive a $5,000 prize, a physical award featuring Indiana limestone, and the opportunity to make a $500 gift to an Indiana public library. Winning and shortlisted books were selected by panels of judges, including former winners, writers, educators, scholars, local bookstore owners, and librarians.
Indiana Humanities awarded up to 30 nonprofit organizations (libraries, schools, museums, etc.) the opportunity to host an honoree of the Eugene & Marilyn Glick Indiana Authors Awards.
This program is made possible with the support of Glick Philanthropies.
…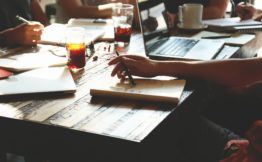 Release

My thin arrowed gait across the driveway,
provoked by lure of sidewalk's open bend
to elsewhere-away-from-here, was deflected
by shielded certitude of nearby corners

discharging metronomic bursts of dog walkers
and wall scrammers once foot's flight
departed home ground.  Frustrated.  Returned.
I repeated my outward assault only to revisit

the doorstep.  Back and forth, I stitched
air with caged velocity until my notice
chanced upward a confident stretch
of altocumulus, potholed with blue whispers

of beyond, and recalling yesterday's moon
retasked my torqued spirit to a search
and rescue.  My eyes growing frantic
rummaged the high billowed mesh for

glimpse of waxing gibbous form.  And then,
as if answer, an unfinished orb tore
clear an instant to toss a wink.  Quickly
clouds recovered, but it was enough.

Comfort stood and
I was stilled.
…
Post Tagged with
archives
,
coronavirus
,
covid-19
,
good stories
,
good stories for difficult times
,
local authors
,
local history
,
poetry
,
short story
,
writers
,
writers respond