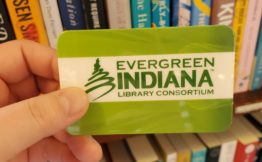 How To Get A Library Card When The Library Is Closed
Even though the library is closed, our digital resources are still accessible for library cardholders. For those who need to get a new Evergreen Library card to access books, audiobooks, magazines, and videos online, follow these directions to submit your information for a new card.
Once the card has been processed we will send you your new card number and password by email or phone so that you can then get onto Overdrive.
The library appreciates your patience and understanding at this time as we continue to deliver our services to the community.
Click Here
Be sure to select PUTNAM COUNTY PUBLIC LIBRARY-MAIN as your "Home Library".
Fill out the form.
Submit.
We will watch for it to come through as PENDING.
You do not need to provide us with an ID at this time. We will send your library card to you through the mail.
…