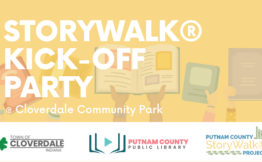 Join us for a fun-filled afternoon in celebration of the opening of the Baliff Family StoryWalk® at the Cloverdale Community Park!
Miss Taylor and Miss Krista are planning prizes, snacks, and fun for the whole family! StoryWalks® are an innovative and delightful way for children — and adults! — to enjoy reading and the outdoors at the same time. Laminated pages from a children's book are attached to wooden stakes, which are installed along an outdoor path. As you stroll down the trail, you're directed to the next page in the story.
StoryWalk® was created by Anne Ferguson of Montpelier, VT and has developed with the help of Rachel Senechal, formerly of the Kellogg-Hubbard Library.
The Putnam County StoryWalk® Project has been primarily funded by the Putnam County Community Foundation. The Bayliff Family StoryWalk® was funded by a matching grant from the Bayliff Family.
The Putnam County StoryWalk® Project has facilitated the purchase and installation of this and other StoryWalks® to be placed throughout Putnam County.
…