---
Welcome to the Imagination Portal!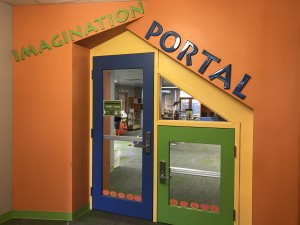 Youth Services Librarians
Krista Mullinnix | Phone: 765-653-2755 x 7187 | kmullinnix@pcpl21.org
Taylor O'Brien | Phone: 765-653-2755 x 7173 | tobrien@pcpl21.org
---
Youth Services Librarians
Putnam County residents of all ages are able to have a library card.  To get a library card for you or your child, please complete a patron registration form at PCPL and present an up-to-date Driver's License or another item with your current address, along with a photo ID.  Minors must have their legal parent or guardian present when signing up for a card.
A library card gives you access to our collection of fiction, non-fiction, dvd's, videos, games, audio-books, and music for kids, teens, and adults.  As well as access to our online resources of electronic books and audio-books.
---
Programs & Services
We offer weekly story-times that feature stories, music, and movement that develop early literacy skills and are suited for the following age-groups:
Baby & Me (newborns – 24 months) Tuesdays @ 11AM
Toddler Time (12 months – 35 months) Thursdays @ 10AM
Pre-K Storytime (3-5 years) Thursdays @ 11AM
In addition, we offer monthly music, art, and science programming, including cooking and Lego-building, after school and throughout the summer for older children.  For more details about these programs, please see our events calendar.
With advance notice, a librarian can provide a special story-time or tour for your group, create a book-list for you on a particular subject, or teach your students search skills and how to find materials in the library.  You can also schedule a special visit from our outreach librarian for story-time in your classroom or daycare.
---