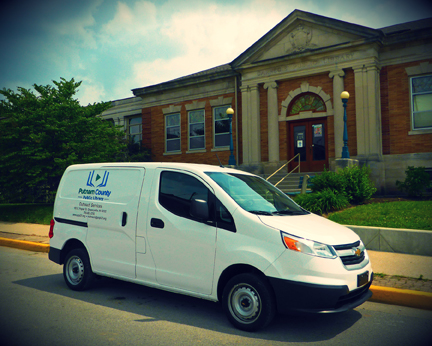 PCPL OUTREACH DELIVERY SERVICE
The Putnam County Public Library's Outreach van provides free delivery service to residents of Putnam County.
We deliver every Tuesday, Wednesday, and Thursday to schools, homeschoolers, nursing homes, daycare centers, home-bound patrons (physically disabled, extended illness or significant transportation problems), and patrons living in remote areas.
When you select books, films, games, and music for our staff to bring to you, we build an outreach profile for you to help us understand your preferences and anticipate what other items you might like in the future.
You may request delivery one of the following ways:
Email: outreach@pcpl21.org

Call Jill Hawk: 653-2755 ext 7127

Print out a PDF

and mail it to:


Putnam County Public Library
103 East Poplar St.
Greencastle, IN 46135
To select materials to be delivered:
Enter your barcode # (the number on back of your library card–the entire number, without any spaces) and password (last 4 digits of your phone #).

Place a hold on the items you want.

At "Pickup Library" option, click the down arrow and from the drop down menu select "Outreach Services."

Click on Submit Request.
Borrowing Privileges:
4 DVDs

2 console games

8 audio books

8 music CDs

Total of 50 items per card.

All items check out for two (2) weeks.
*There are no late fees for the Outreach Service.
*You are responsible for lost or damaged materials.
If we cancel due to weather conditions or mechanical problems, books returned on the next visit will not be charged late fees. Delivery cancellations due to weather or other extenuating circumstances are announced on the library's website (www.pcpl21.org), area news programs, and local media sources.